The Soldier's Story
First-Hand Accounts
Ron Steinman
Reviewed by C. Snapp
5 out of 5 stars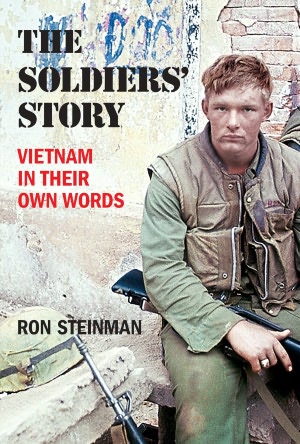 "I think that anyone that's ever been in battle is a little bit scared. If he wasn't he isn't up there where the battle was, to me. You're not really scared but, but you know it's either you or him. Heroes are funny people. A dead man is not a hero. A hero is the man who makes the other son of a bitch die for his country."   – Basil Plumley
The Soldier's Story is a novel compiled of firsthand accounts of the Vietnam War. There is no single plot to this novel or ending because each story has its own plot, and ending. The Soldier's Story has firsthand accounts from the real people of "We Were Soldiers". There is even an account from Vietnam Veteran, and Prisoner of War, Senator John McCain. The accounts from the people that "We Were Soldiers" is based on are Basil Plumley, Earnie Savage, and Ramon "Tony" Nadal. Of course, this book is set in Vietnam.
The Soldier's Story is a remarkable story about the horrors of war. There really isn't any foreshadowing or flashbacks because it isn't a usual novel because instead of there being one plot, there are a bunch of accounts that make up the book. If you think about it, this book is even sadder because of all the mentally scarring things these people have seen, endured, and lived through.
When they returned from combat they were not given the heroes' welcome or the welcome that their fathers or grandfathers received when they returned home from WWII. Because of many factors, (including PTSD (Post traumatic stress disorder)) and the many drugs that these men could have encountered in their time in combat, sadly, many of these heroes ended up living on the streets. Although this is a sad reality for many Vietnam Vets, many returned to normal lives.
As to conclude my review, I give The Soldier's Story 5 out of 5 stars because of the many interesting accounts compiled between the front and back covers. I would recommend this book to anyone who reads war stories, historical fiction/historical non-fiction, and anyone who is interested in reading about the Vietnam War. I believe that Ron Steinman did a great job getting these stories out there so everyone can read about them, but I do not recommend this book to anyone who cannot take a gruesome war story.