Certain Poor Shepherds
Fiction
By Elizabeth Marshall Thomas
Reviewed by M. Heiss
Rated 5 out of 5 stars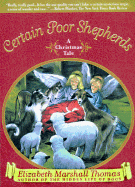 Imagine being torn away from your family at a young age- you can barely remember them. A shepherd now forces you to watch over a herd of needy, stupid, young sheep and protect them from eating poisonous food. One day, as you watch the sheep, you see a new star in the sky that smells powerful. You suddenly know that you must follow this star to an unfamiliar place – to Bethlehem. Welcome to the world of Ima, a lonely goat.
Ima's only friend is a dog named Lila who protects the sheep from wolves and cougars. Lila gets along with her master, but he has also caused her great misery. Lila's master only brings very little food, which makes Lila thin and weak. She has no family to love, because her master killed her puppies. Lila has no one to look up to, no one to care about…
Lila and Ima have been friend's since they first got to the master's home. They both are alone in the world, so a natural bond of family and love grows between them. When the mysterious star shows up, the animals go on a journey, meeting angels as they go. As they follow this star, they dream of their true heart's desire- finding a family of their own.
Thomas is an amazing author, twisting the concept of loss into an elaborate story. She embraces the animal's personalities without personifying them. The story is written in third person omniscient, so the reader feels what the animals are thinking. No human qualities cloud the characters of the animals: they don't talk like humans. The book is an invitation to go with Thomas into the mind and heart of Lila and Ima.
This book is a must read. Even though it is based on the events of the Christmas story it is a great book to read at any time because it gives you hope. Certain Poor Shepard is full of faith, passion, and loyalty.